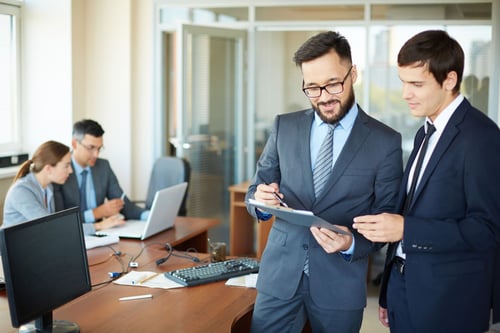 Microsoft Dynamics has undergone a lot of changes over the years. Your company may still use legacy versions of Microsoft Dynamics CRM, Microsoft Dynamics NAV, or Microsoft Dynamics AX. Microsoft has gradually rolled functionality into the Dynamics 365 ecosystem from these older versions. You can obtain functionality that provides your company with a full-scale customer relationship management (CRM) or enterprise resource planning (ERP solution). Let's look at how the pricing works for various Dynamics products.
How Much Does Microsoft Dynamics Cost?
The answer to that depends on which version you purchase. Costs for older Dynamics Products versions vary per user depending on whether you decide to buy an on-premises or cloud version of the platform. In addition, your company may require customizations that can add to the bottom line. Your best bet is to contact a Microsoft Partner for help pricing and setting up your Dynamics product.
How Much is Microsoft Dynamics NAV?
Microsoft Dynamics NAV is an ERP solution capable of providing organizations with the ability to manage business functions around:
Finance
Manufacturing
Customer Service
Supply Chains
Ecommerce
The cost of a Microsoft Dynamics NAV license starts at around $5,000 for the on-premises version of their Starter Pack. That provides companies with a license for three users.
If your business requires any manufacturing or accounting functionality, you will need to purchase the Extended Pack, which costs around $10,000 for three users. Any customizations you apply to your Dynamics 365 NAV instance can further increase the overall price.
Microsoft Dynamics NAV Cloud
Microsoft Dynamics NAV cost per use for the cloud version varies depending on your options. Organizations typically pay anywhere from $185 to $400 per user per month. If your company can find a provider willing to host your licenses, it can set up a hybrid version of Microsoft Dynamics NAV. Internet eBusiness Solutions (IES) can walk you through the process and get you set up if this is the option your company chooses.
Reasons to Choose On-Premises Dynamics
You already have the hardware and other resources available for support
You want to full control of your data assets
You want to have the flexibility to upgrade as needed
You have a technical staff with the skills to work with Dynamics NAV
Reasons to Choose Microsoft Dynamics NAV Cloud
You want a set monthly payment
You don't have a large technical staff available
You can't host the required infrastructure for on-premises
You want upgrades handled automatically
Dynamics 365 Product Pricing
If you decide to go with Dynamics 365 for your CRM and ERP needs, you must go through a certified reseller partner. They can go over the standard licensing options available for different Microsoft Dynamics 365 products.
Before getting into the question of how much Microsoft Dynamics costs, let's look at the two different versions of available licenses.
Assigned licenses — These licenses cover user licenses for individual named users, including Professional and Enterprise licenses. In addition, device licenses that offer access to specific devices also fall into this category.
Unassigned licenses — Unassigned licenses provide access to specific Dynamics 365 features and are not limited to a particular user or device.
Depending on your needs, you can order both assigned and unassigned licenses as part of your Dynamics 365 package. Now, let's do a deeper dive into the cost of Microsoft Dynamics products. When you purchase one Dynamics 365 product, you can buy an additional Dynamics 365 app at $20 per month per user.
Sales
Dynamics 365 Sales allows professionals control over every aspect of the digital selling journey. You can track promising leads and build relationships with customers. There are three different pricing levels available for Dynamics 365 Sales.
Sales Professional — $65 per month per user
Sales Enterprise — $95 per month per user
Sales Premium — $135 per month per user
Customer Service
Dynamics 365 Customer Service provides users with tools that enable better customer experiences. Reps can personalize each contact with tools that help them be more productive. In addition, users can accept requests from customers through multiple channels. The features available to customer service reps vary depending on the license purchased.
Customer Service Professional — $50 per month per user
Customer Service Enterprise — $95 per month per user
Field Service — $95 per month per user
Remote Assist — $65 per month per user
Marketing
Dynamics 365 Marketing allows users to create an elevated customer experience by orchestrating personalized journeys along each part of the marketing process. That way, businesses can strengthen the bonds they build with customers and earn their loyalty. In addition, dynamics 365 Marketing integrates easily with other Dynamics products like Sales and Customer Insights.
The Marketing module starts at $1,500 per month per tenant. Your company must have at least ten users already working with a qualifying Dynamics 365 component.
Commerce
Dynamics Commerce provides organizations with an omnichannel solution to help unify experiences in the store, from the back office, within the call center, and digitally. That way, you can keep building brand loyalty by giving customers a personalized experience regardless of how they interact with your company.
Pricing for the Commerce module is $180 per month per user. It costs you $30 per month per user to add on an additional qualifying Dynamics 365 application. Your organization can also add fraud protection at $1,000 per month per tenant.
Business Central
Business Central offers SMBs a centralized solution for automating and streamlining business processes. It's covers everything from finance to manufacturing. One of the main benefits of Microsoft Dynamics 365 Business Central is that organizations can modify the functionality to fit the region and industry in which they operate.
Business Central Essentials — $70 per month per user
Business Central Premium — $100 per month per user
Customer Service Professional — $50 per month per user
Please note that for Business Central Essentials and Business Central Premium, you do not have the option to purchase an additional Dynamics 365 business app for $20 per month.
Explore the Benefits of Dynamics 365
IES can help you go over how you can use various Microsoft Dynamics products to make your business more efficient. Contact us today to set up a personal consultation with one of our experts.