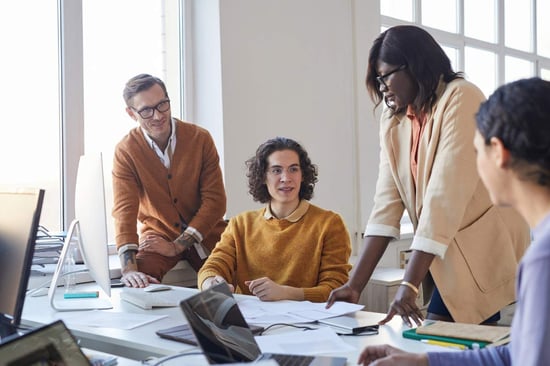 Small and medium-sized companies are always looking for ways to access the latest technology to help them stay competitive against larger market rivals. QuickBooks and Dynamics 365 are two popular tools used for financial management and reporting. A Dynamics 365 integration with QuickBooks lets you access the strengths of both solutions within a single platform.
What is QuickBooks?
QuickBooks accounting software helps companies track income and expenses. Customers also use QuickBooks to manage payroll, track project costs, and forecast cash flows. Freelancers and SMBs are the top users of QuickBooks. You can purchase it as desktop software or buy the SaaS version based in the cloud. Companies can subscribe to a monthly plan or buy a yearly subscription, often at a discount.
QuickBooks Functionality
QuickBooks does a lot to help companies move to a paperless process. Below are some details on various capabilities available within QuickBooks.
Invoicing — Invoice streamlines the often-time-consuming invoicing process by automating most manual tasks. Users can set up recurring invoices and schedule sending them out to recipients. You can also schedule reminders to send to customers who are late on payments.
Accounting — QuickBooks provides tools to help manage cashflows and other outflow activities. Companies can print financial statements that give them the current status on the business's financial health. Another great feature of QuickBooks is the ability to scan and capture information from receipts using a mobile application. That makes it easier to track potential tax deductions in one location.
Payroll — Payroll management is much easier using QuickBooks. Businesses can pay employees using available payroll features. In addition, you can automatically deduct payroll taxes, taking away a lot of the stress involved with calculating, filing, and paying taxes. It's also possible to manage employee and HR benefits within QuickBooks.
Payments — The payments module benefits both eCommerce and brick-and-mortar business owners. Customers can pay invoices online using debit or credit cards. Owners can also initiate contactless payments using card readers or the mobile app. QuickBooks is also capable of handling eCheck and ACH payments, giving customers various payment options.
What is Dynamics 365?
Dynamics 365 combines the benefits of an ERP and CRM into one platform. The current cloud version combines older versions of Dynamics AX and Dynamics CRM. Companies use Dynamics 365 to create a centralized location for dealing with business processes and workflows. The solution integrates easily with other products within the Microsoft family, like Office 365 and Azure.
Dynamics 365 Finance helps companies maximize profits and grow revenue, providing many of the benefits of QuickBooks. The business intelligence within Dynamics 365 helps companies with:
Budgeting and forecasting — Businesses can make more accurate budgets and forecasts to help with financial stability. You can also set up reports and contrast them with what's happening with business performance. Organizations can also receive alerts when they are close to hitting set budget limits.
Business process automation — Integrate your core processes into your financials. It's also possible to set up automation to handle manual tasks that often bog down worker productivity. You can save time and boost your financial performance.
Company expansion — Use the predictive capabilities of Dynamics 365 Finance to figure out ways to achieve greater profitability and business growth. The software scales with you as you expand your company or partner with another organization.
Benefits of a Dynamics 365 Integration With QuickBooks
Many company departments, like sales, need information from accounting and vice versa. However, these business areas often work in different applications, making it challenging to sync up information. A company that uses Dynamics 365 for its sales module might need to tap into data stored in QuickBooks by accounting. That's where it pays for organizations to invest in setting up a Dynamics 365 integration with QuickBooks.
Synchronized Information Sources
Connecting Dynamics 365 with QuickBooks allows users of the Dynamics CRM functions to view accounting information of customers from that window. Knowing the purchase history of customers helps sales team members make better decisions on which customers to target for various deals.
After completing the sales process, you can send details to the QuickBooks system. Updates in one platform reflect immediately in another, eliminating the need to conduct ponderous data transfers daily. Everyone receives real-time access to the latest financial information for customers.
More Seamless Business Processes
The marketing team can rely on a complete picture of their audience when developing campaigns to pull in more leads. Users can analyze the ROI achieved for each effort and see where there might be opportunities to target potentials.
Getting QuickBooks data through your Dynamics CRM helps company reps provide better customer service. You can create accounting dashboards that make it easy to track information on recent transactions, your top customers, and any pending invoices. That speeds up the flow of business throughout the organization.
Increased Data Security
Dynamics 365 is based in Azure, which means both applications benefit from its inherent security protections. Information remains protected as it moves between Dynamics 365 and QuickBooks. You can track threats like malware and set up reports to monitor the security and compliance features enabled for Dynamics 365.
Better Business Management Through Dynamics 365 and QuickBooks Integration
Combining your chosen Dynamics 365 modules with QuickBooks allows you to build more complete business management solutions. It's also easier for users to communicate with other business areas and coordinate on projects.
Internet eBusiness Solutions prides itself on the expert advice given to organizations looking to maximize the benefits of their current applications. We can help you optimize everything from warehouse management to customer service. With our help, you can stay on top of your financial performance while giving your employees everything needed to achieve business success.
If you're interested in bringing IES on as your solutions partner, contact us today to set up a consultation.