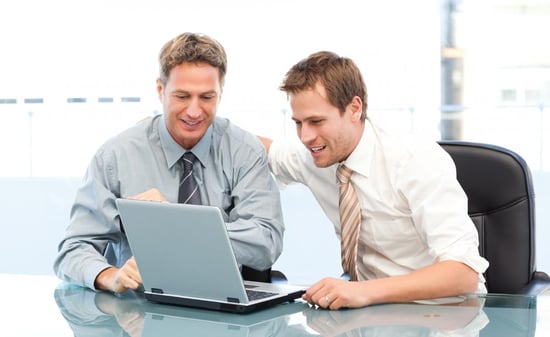 Salesforce remains the clear market leader in CRM sales, controlling nearly 24% of the overall market in 2021. While Microsoft Dynamics 365 has some ground to make up, there's no question that the platform has a solid reputation for robustness and efficiency.
While it's hard to find a one-size-fits-all CRM solution for every company, Dynamics 365 has put a lot of work into making its software-as-a-service (SaaS) CRM adaptable to businesses of all sizes in every industry, from smaller startups to large enterprises. Let's look at Salesforce vs. Dynamics to give you a better sense of the benefits offered by both platforms.
What Is Dynamics 365?
Dynamics 365 is an evolution of Microsoft's traditional suite of software tools. They've taken the most popular features of their past products, like Dynamics AX and GP, and ported the functionality to the cloud. Because of that, customers no longer have to invest in expensive hardware and servers to support their CRM.
Instead, they can sign up for a subscription to Dynamics 365's cloud-based business applications. Customers are free to mix and match different licenses from the SaaS services most beneficial to their organizations. Five core applications within Microsoft Dynamics 365 offer CRM functionality, including:
Sales

Customer Service

Field Service

Remote Assist

Marketing
Clients can also elect to add Dynamics 365 Customer Insights, which uses AI-driven insights and automation to construct customer journeys and offer personalized recommendations. It also analyzes demographic data to provide insights that help companies transform casual prospects into loyal customers.
One advantage that Dynamics 365 offers over Salesforce is the ability to add on ERP licenses. Customers can choose from two solutions, one built for smaller companies and another for bigger enterprises. There's no need to create a separate ERP system and work out how to get it to interact with your Dynamics 365 instances. Everything comes under one umbrella. Dynamics 365 also comes with out-of-the-box integration with other Microsoft products like Office 365.
What Is Salesforce?
Salesforce, established in 1999, transformed the concept of hosting CRM functionality as a SaaS tool. Companies loved that they no longer had to spend a lot of capital maintaining infrastructure to support a CRM. Instead, the functionality got moved to the cloud. That meant a lot less setup for business users.
Like Dynamics 365, Salesforce offers users the option of picking from different functions to support their marketing, sales, and customer service needs. They also support analytics, application development, and Internet-of-Things (IoT) data processing.
Other management functionalities provided by Salesforce include:
Contact data

Quote tracking

Sales leads

Reporting
Dynamics 365 and Salesforce Customization
Customers might decide that one reason why Dynamics 365 is better than Salesforce for their CRM needs is because of the cost of customization. While Salesforce doesn't charge for minor configuration tweaks, things can get costly if you hire a Salesforce Admin for more technological changes. In addition to paying their monthly rate, companies will likely have to hire a Salesforce developer to implement the recommendations.
Because it's part of the Microsoft family, Dynamics has built-in integrations for many of its most popular applications, including Power BI and Power Apps. You would likely have to pay more to get those applications to work with Salesforce. There's also AppSource, a resource where organizations can tap into over 1,000 app integrations available for Dynamics 365.
Dynamics 365 and Salesforce Implementation
Smaller companies will likely have an easier time setting up Microsoft Dynamics 365. There's a lot of complexity in the software setup and its administrative requirements. It's a lot easier to get started quickly with Dynamics 365, especially if you have the assistance of a Microsoft Certified Partner.
Any customizations made to Salesforce after implementation typically mean more upkeep in the future. If your company doesn't have a dedicated sales team, it may not be the best option. Dynamics 365 is excellent for companies needing access to basic CRM functionality with an opportunity to expand in the future.
Dynamics 365 and Salesforce Security
Another reason why companies might opt for Dynamics 365 vs. Salesforce is the security offered. You get the benefit of Microsoft assuming complete responsibility for protecting your data and servers, leaving customers to worry about their business concerns. There are different levels of security offered for various applications. The protection offered through Azure includes:
Data encryption

User authentication with Azure Active Directory (Azure AD)

Access to data loss prevention setup at the tenant and environmental level
Salesforce uses two-factor authentication for users and the ability to restrict access from certain IP addresses through its Lightening Experience. There are also metrics that administrators can view to determine where they may need to make further customizations around data and application security.
Dynamics 365 and Salesforce Pricing
Cost is often the deciding factor for companies trying to decide whether to go with Dynamics 365 or Salesforce. Both companies offer monthly pricing based on the needs of customers. Businesses should keep the following considerations in mind when adding up how much they'll end up paying in the end:
What's it going to cost to make additional customizations?

How do the prices of each company fit with your established budget?

How easy is it going to be to integrate either platform with your current business applications?
You also have to consider how easily users would adapt to using the new CRM. If you're already using many Microsoft applications, it's going to be easier for your technical and casual users to adapt to using the Microsoft Dynamics CRM. There may be a steeper learning curve that comes with adapting to using Salesforce in your daily workflows. That can mean more money spent on training.
Find the Right CRM Solution for Your Company
Internet eBusiness Solutions guides businesses in choosing the right suite of business products. If you still have questions about the benefits of Salesforce vs. Dynamics 365 CRM, feel free to contact one of our experts. We're always happy to answer any of your questions.