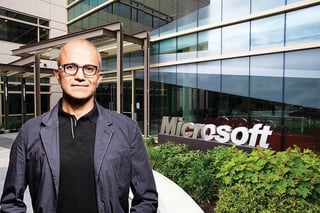 SAP and Microsoft have been duking it out for a few years to see who will gain market dominance. Both offer world-class enterprise resource planning (ERP) platforms. This article will give you a head-to-head comparison of Microsoft Dynamics vs. SAP. What should we expect from these two vendors in the years to come? What we found may surprise you.
Microsoft Dynamics vs. SAP – Feature Comparison
Dynamics has a number of popular features that make it an alternative to SAP. First, it offers some of the same multi-lingual and currency features at SAP. The software currently meets regulatory requirements in 36 countries. This clearly is Microsoft's way of shoring up their mid-market reputation by competing with SAP.
But Dynamics is more user-friendly than SAP because the UX upfront is recognizable under the Microsoft brand. This makes it ideal for the small to mid-sized business already familiar with Microsoft products.
Dynamics currently has the reputation of being simpler to use and more intuitive. A shorter implementation period is usually the result of the natural familiarity with the Microsoft family of office tools. Dynamics is easier to customize than SAP, as well, although the out-of-the-box solution is very effective for most businesses. However, most surveys report that SAP has a higher percentage of users recouping their costs within two years of implementation.
However, SAP has cornered the global ERP market. Forbes suggests the only place where they really fall down is in the jump to software-as-a-service models – SAP is lagging behind the trend. Yet, despite the higher price tag, SAP has control of about one-third of the ERP market around the world. SAP software excels particularly in the area of business intelligence, including dashboards, data warehousing, and reporting. It is also typically good for retailers with a global presence. The only problem to keep in mind is that SAP does not offer the do-it-yourself functionality of Dynamics. Companies will require an administrator to maintain the software and run user reports.
Microsoft Dynamics vs. SAP – Future Predictions
Traditionally, Dynamics has been a market share leader for the small to mid-sized business. SAP has been challenged to expand in that niche because their software is typically considered too complex and costly for smaller organizations. We anticipate that SAP will continue to find its sweet spot among the global business set.
Microsoft Dynamics will continue to target the small to mid-sized business with an expanding set of cloud services within the Microsoft 365 mega-universe. For companies seeking scalable lower-cost options with a fully integrated platform across all business functions, Dynamics will continue to be the perfect fit.
Microsoft Dynamics vs. SAP – Which is Better?
There are strengths and weaknesses in both Dynamics and SAP. Determining which ERP software will provide the best benefits requires the creation of a user case study to define what features will be most useful for your business. IES is available to consult with businesses seeking guidance on which ERP platform is the perfect fit. In addition, we can help you create an ERP implementation roadmap. Contact us to learn more.