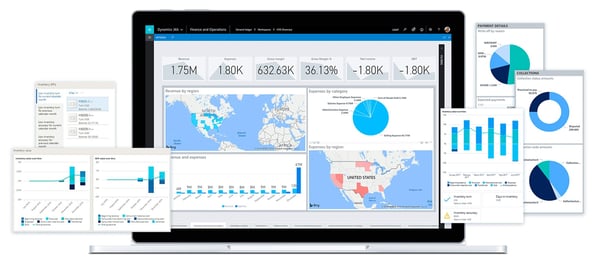 As with most SaaS based solution, Dynamics for Finance and Operations needs to be customized a bit to get the most out of the software. Putting in the time up front to set up these modules will improve the speed of adoption and overall ROI.
What you may not know, however, is that there is a tool called the Optimization Advisor Workspace that helps users hash out crucial rules around the capture and archiving of business data, along with specific customizations and software configuration.
Let's look at this tool and how it can help with deployment of Dynamics 365 for Finance.
What is Optimization Advisor for Dynamics 365 for Finance?
When a business process isn't displaying the right performance or flow, there are a complex set of steps that could include super-users, business partners, IT teams, and more, to resolve it. To reduce the time spent coordinating a resolution, Microsoft has created a new wizard-application called the Optimization Advisor. Microsoft releases updates to the wizard frequently, as new versions of the software happen, or as customer feedback is gathered and acted.
In April 2018 Microsoft released a set of new best practices for the Optimization Advisor. But users can also create their own rules within this wizard for optimizing Dynamics 365 for Finance. If a customer is working with a vendor-partner, like IES, they can also easily create new rules.
Once these rules are established, the software will run periodic checks of the rules against user workflows. If the rules are broken, an optimization opportunity will appear in the workspace. From that suggestion, the user can take action to correct the issue. The goal is to improve workflows in a space that can coordinate super-users, managers, IT, and outside vendors to establish best practices and hold others accountable to these rules.
Optimization Advisor works like this:
First, it analyzes the business process with the software workflows.
Then it looks for optimization opportunities based on the rules you've established.
It leverages data composition.
Quantifies the opportunity.
And recommends a solution to fix the workflow.
When you log in to the Optimization Advisor portal it will show you a number of suggestions to maximize the performance.
How Can The Tool Help Optimize Dynamics 365 for Finance and Operations?
This new tool can help your business set up, monitor, and follow best practices related to the software. It can identify business data that is missing, outdated, or incorrect. It can point out workflows that aren't being followed. For example, if a manager logs in and determines a process isn't working properly, the software can make suggestions to improve the problem.
Just as important, the Optimization Advisor can prevent setup errors in the Dynamics 365 for Finance and Operations module that could jeopardize the performance of the software. It's a very smart tool to help businesses improve productivity and maximize their investment.
Contact IES to discuss this cool new tool and other ways your team can optimize Dynamics 365 for Finance and Operations.