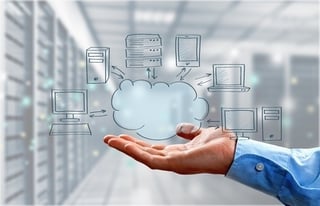 Move over, Intuit QuickBooks Online. There's another accounting software competitor that is snagging – and retaining -- your customers. The beauty of this other online software platform is that is goes beyond the basic business functions of finance and billing and allows a true upgrade to a business intelligence package that can do everything from integrate with your customer database, create customized income and expenditure reporting, and can be accessed from any digital device through the cloud.
What is this mysterious system overshadowing the Intuit QuickBooks market? Say "Hello," to Microsoft Dynamics. Let's look at both platforms objectively and see if it just might be time for you to consider a platform upgrade.
QuickBooks online comparison to Microsoft Dynamics
Intuit QuickBooks is one of the most popular entry-level accounting software platforms in the world, with more than 3.5 million small business customers. Yet QuickBooks has limitations that keep the software from meeting the needs of many large or growing businesses. In fact, QuickBooks is missing hundreds of features that come standard as part of the Microsoft Dynamics suite of products. Yet, Intuit QuickBooks has carved out a solid niche with the small or emerging company across the world. So QuickBooks may be perfect for your business for the time being – it really just depends on your growth trajectory.
Microsoft Dynamics focuses on medium-sized businesses to larger enterprise corporations. They've honed their suite of products for 23 years and boast more than 290,000 business customers around the world.
A QuickBooks online comparison against Microsoft Dynamics illustrates one simple business reality: staying ahead of the competition means using all the tools available to build your business. The latest accounting software goes beyond working with your GL, payables and receivables. Many cloud-based software providers integrate seamlessly between accounting to eCommerce, inventory management and customer relationship management (CRM). If your business has grown to the point where you need some of these tools, it might make sense to step beyond the traditional functions found in QuickBooks.
Here are some of key features and functions and pros and cons of both platforms:
The Scalability of Microsoft Dynamics is something to consider, especially if your business is growing. Intuit QuickBooks is a good platform for the starter business, but as your company expands, so should your software. Microsoft Dynamics is agile enough to flex with your business – especially when it's cloud-based.
Switching to Dynamics is like using a paper roadmap versus GPS. Both will get you where you need to go, but GPS is certainly a lot more modern and sophisticated. It allows you to continue driving while listening to directions, an important time-saver. An old school paper map usually requires a pit stop. Too, the GPS is part of the Internet of Things (IoT) and as such, is frequently updated with real-time data including construction and detours. The GPS is the number one directional tool for driving today – and that paper map, if you have one, is at best, just a back up.
Microsoft Dynamics has evolved ahead of business trends to give consumers what they've been asking for; an integrated business manager with multiple functions housed in the cloud. It's a smart tool for your enterprise.
The biggest difference between QuickBooks and Microsoft Dynamics is that the former is a primarily a sole-function program, dedicated to basic accounting, billing, and financial planning features. In fact, those functions may be all you need at this point in your business evolution. QuickBooks can email invoices and send collection letters, batch invoices, and customize forms. The program, which has been around for years, has begun exploring the world of Enterprise Resource Planning (ERP), but mainly in the area of financial planning. The goal of Intuit QuickBooks is to manage business finances – but not to manage the entire business.
That's really what sets Microsoft Dynamics apart from QuickBooks. Its ERP functionality offers you the ability to manage multiple areas of your business. Microsoft Dynamics is obviously much more than an accounting and billing platform.
Integrated functionality makes Microsoft Dynamics the Cadillac of accounting programs. The program goes beyond financials to offer businesses a launch pad for critical business functions like distribution, human resources, sales, customer service, and more. The 2016 upgrade of Microsoft Dynamics provides businesses with the insight and functionality to get the job done right every time. QuickBooks Enterprise just doesn't mirror the robust multi-functions of the Dynamics platform.
Easy interoperability between Microsoft Dynamics GP accounting creates a seamless integration between all the other systems you use to manage your business. When you can work with a solutions provider to customize the integration of Microsoft Dynamics, it will streamline efficiencies by eliminating data entry redundancies. QuickBooks simply cannot compete. In fact, QuickBooks users complain that the larger the file, the slower the platform response. When a file size reaches 30MB or higher, or the number of transactions exceeds 32,000, many companies experience delays in navigation, reporting functions and menus.
Multi-user functionality is very important to most businesses. One frustration with QuickBooks online is that only one user can access a record at a time. QuickBooks literally locks the second user out until the first user is done. If the first user forgets to shut down and goes home, then access to that record is denied until they log back in the next morning. In Microsoft Dynamics, multiple users can log in simultaneously and create a sales order for the same customer. These advanced features stop employees from overwriting or modifying data that should stay static. Multiple posting processes are a big plus and simply don't exist in entry-level accounting programs such as QuickBooks.
Reporting is much more robust with Microsoft Dynamics. Reports are also customizable, giving users more flexibility. A simple numbers count shows Microsoft Dynamics offers more than 700 standard reports versus Intuit QuickBooks, which offers 112.
Ease of use and cost probably has to go to Intuit QuickBooks. Again, it is a beginner program designed for business finances, and as such, it is both inexpensive and easy to use. A realistic QuickBooks online comparison against Microsoft Dynamics shows that many start-up businesses choose QuickBooks for these very reasons. But it does not have the advanced features that larger companies need.
Yet QuickBooks has real limitations related to customization; upgrades are handled through add-on modules that are unwieldy and one-size-fits-all with little customization available. It lacks the interoperability with other business product suites.
Microsoft Dynamics GP 2016 includes a number of enhancements to financial and project accounting functionality that have been well received by consumers:
It automatically posts individual cash receipts in a batch report.
Importing budgets from Excel will create a flag/exception report with a list of clients not included in the GL.
Customizable user interfaces, which greatly improve the user experience (UX).
Employee receipts can be attached to employee expense reports.
Mobile devices are now fully supported across all Dynamics functions.
Has your business outgrown QuickBooks?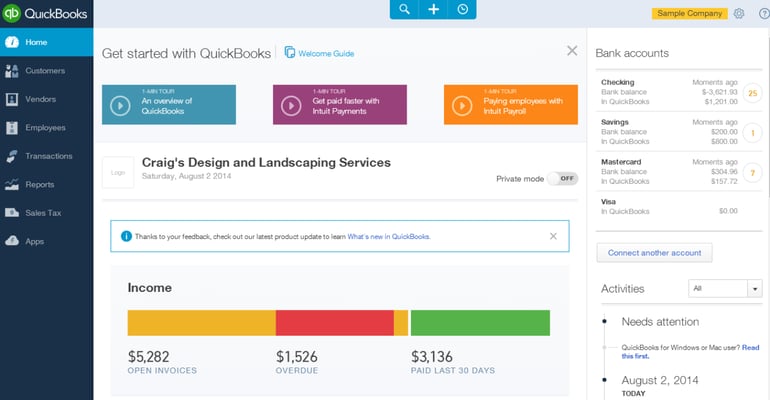 Now that you've taken time to understand a QuickBooks online comparison versus Microsoft Dynamics, how will your business go forward? Basic GL accounting functions can be housed under QuickBooks, and millions of businesses swear by it.
But note the word "basic" in that last sentence. When growing businesses hit their limits with QuickBooks they are increasingly turning to the robust functionality of Microsoft Dynamics in the cloud as a way to capture and sustain a competitive advantage in the marketplace. Intuit QuickBooks was designed for small companies with a need for basic accounting functions. It was not designed for complex businesses of a larger size.
If you've started seeing performance slowdowns or have been feeling shortchanged by the lack of customization or add-on features with your Intuit QuickBooks software, then perhaps it's time to consider a switch to a more robust platform. Some key features offered by Microsoft Dynamics that Intuit QuickBooks lacks include:
Forecasted supply and demand reporting.
Auto tracking of vendor performance.
Allocation calculations.
Automated late fee calculations.
By-item sales tax application.
Partial pay invoicing for partial receipts.
Full integration with other Microsoft products like Word and Excel as well as your Outlook calendar.
You can set up regularly scheduled reports that are automatically emailed to specific recipients. You can create cover letters and full reports with title pages, charts and graphs, logos and other graphics. The platform will send automatic scheduled updates to these reports. This is a huge time saver for bookkeeping.
Microsoft Dynamics offers full support; including conversion tools that will help you transition from QuickBooks. It is a turnkey solution for growing businesses, offering an operating system, database, e-mail, personal productivity and business management and accounting software.
As some point your business may need to switch. Ultimately, you will have to make your own decision, but if you'd like more information related to a QuickBooks online comparison head-to-head against Microsoft Dynamics, we've prepared a white paper that goes into more detail. Click here to download our free, informative guide today.