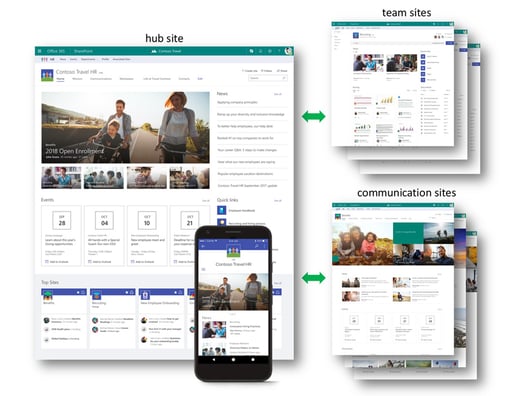 To understand the purpose of a SharePoint hub site you have to think about a wagon wheel. Within the context of a department, region, division, or product, the hub is the one piece holding the myriad of components together. What connects the spokes in a wagon wheel? The hub, of course, and Microsoft SharePoint hub sites are the one organized focal point for the teams that use the software.
From this hub you can:
Peruse libraries of content related to a project or team. This could include everything from training manuals, contracts, research, correspondence, and more.
Brand other Intranet sites that branch off from the hub. For example, a multi-region sales team could have one primary sales hub site that shares best practices and important information for the entire sales team. But other Intranet subsites could extend from that hub by sales territory, with region-specific information for those teams.
Search across all sites associated with that hub.
If you're planning on migrating to SharePoint, it pays to plan ahead. Here are some of our top best practices for managing SharePoint Hub sites.
SharePoint Best Practices
We know we're mixing metaphors, but Microsoft calls hub sites the "connective tissue" of a corporate Intranet universe. The first step toward building a hub site (or several) is the pre-launch planning that must occur. While it may be tempting to create just one hub site, we don't recommend it because each hub site should have context around a specific department, for example. If you only set up one hub site, the chances of it quickly bogging down in non-contextual data, particularly as your company grows, is very high.
For example, if you're setting up the sales hub page we mentioned previously, it could hold company-wide sales numbers by region, along with sales data on each region. It could hold general sales collateral or training materials for all the teams. But if you only had one hub site, sales information would be crammed in with human resources or other inter-departmental data and news, reducing the impact on everyone.
This leads us to our first SharePoint best practice.
SharePoint Best Practice #1: Pre-Plan the Architecture
Consider these and other issues before designing the hub site, including:
A corporate Intranet can offer many things to the enterprise. We use it to collaborate, train, share data, motivate, and organize teams. How will your SharePoint Intranet benefit your teams? Who is your audience and how do they work together?
SharePoint was designed so that each division or work unit would have their own hub, so that's the first consideration. How many hubs will you need? Will your hubs be organizational by department and function or geographic?
Each hub can be branded, along with the associated spokes in the wheel (subsites). Consider the look, layout, and feel of each hub and subsite and how intuitive they will be. The administration can add top bar navigation to the hub site; how will these links flow?
Each subsite connected to the hub will have its own permissions that are controlled by the administrator. How will these work?
One drawback is that governance rules will apply to all the sites within the SharePoint collection. There's currently no way to enable a feature for one specific subsite.
In addition, the governance process must take into account staff or client changes, business model fluctuations, departmental restructuring, or other disruptions. How will your sites be organized and administered to make these changes?
We mentioned the sophistication of SharePoint. Keep in mind Microsoft has enabled three types of sites under the SharePoint umbrella:
Hub site that serves as the primary point for all other sites allowing team members to connect between multiple communication and team subsites.
Communication subsites designed to share information. It's a good place for policies and procedures, for example.
Team subsites where a project team can collaborate on an event or a deliverable. This could serve as a site for a planning committee.
Understanding Microsoft's intent behind offering these three types of sites is particularly important when planning and implementing SharePoint sites. A Computer World article suggests that "A hub site is not really a new type of site – it's basically a capability that you enable for an existing site – either a team site or a communication site."
Figuring out the navigation structure to leverage all these great tools is part of the pre-planning process. In addition to all of the pre-thought that goes into launching SharePoint sites, we highly recommend engaging stakeholders and end-users in this planning process as a best practice. Not only will representatives of each department help you plan a better SharePoint architecture, engaging them in pre-planning will improve user adoption after the go-live.
SharePoint Best Practice #2: Search Ability
Another factor to consider is how you will search the hub site as well as all of the other sites connected to the hub. Computer World has a great point on this:
By restricting the scope of a search query to hub family, you get the benefit
of a much more relevant and limited pool of search results – ultimately helping
searchers find what they need quickly so that they can apply the information
they gather from searching in their work.
Creating naming conventions is crucially important and will save your employees search time and you a lot of clean-up later on. Planning site names for the hub and subsites and then communicating them to the organization will eliminate any "land grabs" of URLs by employees.
SharePoint Best Practice #3: Cross-Device Functionality
SharePoint in Office 365 works efficiently across any mobile or another digital device. The convenience of always-on access is imperative for most companies. But make sure your SharePoint hub site and the associated subsites are optimized for any digital device. For example, we often see problems when the top navigation bar of the hub site, which is branded across all the subsites, is simply too long to view properly on any size screen.
SharePoint Best Practice #4: Add a Welcoming Touch
We recommend adding a welcoming message to the hub site with a quick introduction to how to use it. Adding a short video tutorial on the hub will take care of training for new employees and adding a welcome will make them feel more at home. Also, consider making the site visually appealing with slides on teams or corporate news. Don't discount the fact that a hub site and the subsites are designed to build corporate camaraderie in dispersed teams. After all, it's called a "Team page" for a reason.
SharePoint Best Practice #5: Flat File Storage
It might be more helpful to organize by metadata instead by file name. Skipping folders for a flat structure requires teams to tag information in specific ways. There are some clear benefits to skipping folders and using tagging in a flat structure, including skipping folder searches and preventing content from being saved to the wrong folder. To follow this approach, however, end-user training is particularly important.
SharePoint Best Practice #6: Pre-Testing
End user testing will help engage the rest of the organization in the SharePoint rollout. Before training, test user navigation with the users themselves, to make sure they can intuitively navigate to all the associated sites. End-user testing will also gut check your organizational strategy; did you really need a hub site there or a team site?
SharePoint Best Practice #7: Flexibility is a Necessity
One of SharePoint's core strengths is its flexibility. As such, despite your best efforts to organize SharePoint in ways to maximize its efficiency, it's highly possible that the needs of the teams using the software evolve. When SharePoint is first rolled out, there will be a period of adjustment where you're observing how the sites are used and whether any tweaking needs to occur. It's important to work a feedback mechanism into the SharePoint rollout, which will allow your end users to make suggestions, especially after they've used the tool for a while. Also, the wants, needs, and priorities of departments or the entire enterprise may shift, necessitating a corresponding shift in how SharePoint is leveraged.
Getting Started with SharePoint
SharePoint is a complicated and robust tool for communication and collaboration between teams. It's suitable for offices of all sizes and can scale up to the largest enterprise. But like all cool tools, it's only effective if you learn how to use it right. Let IES help your teams maximize their SharePoint investment. Contact us today to find out how we can help.