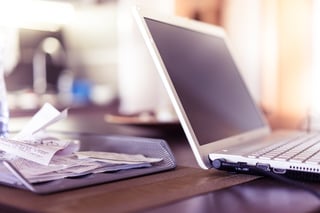 Say "Goodbye" to Microsoft CRM and "Hello" to Microsoft Dynamics 365. This latest iteration in the powerhouse suite of Microsoft products is more than just a name change; Microsoft Dynamics 365 has brought some serious upgrades to the software.
In October 2016, Microsoft announced the platform consolidation and upgrade. There is considerable buzz in the marketplace around the features in the new streamlined platform. The software was designed to consolidate and enliven core business functions while eliminating unwieldy legacy platforms. The practical application of Microsoft Dynamics 365 is greater productivity with more powerful business intelligence. Being cloud-based, the software has the capability to grow with your business without a lot of the muss, fuss, and expense that comes with on-premise applications.
The Microsoft Dynamics 365 features leverage technology as the driver for business growth. Instead of your business using the software, Microsoft Dynamics 365 was designed to drive your business. The intent is that users will capitalize on this digital product to create transformation in their business.
This fits perfectly within the next evolution of digital technology, "Everything-as-a-Service." The concept behind EaaS is that cloud-driven software products are no longer the business disruptor; they are the business that's driving the world economy. It is with these exciting trends in mind, that Microsoft released the unified 365 product.
Microsoft Dynamics 365 Features Upgrades
365 has front end and back end horsepower to drive your business. By pulling together Dynamics ERP and CRM, Microsoft created a unified core business digital solution in the cloud.
The new Microsoft Dynamics 365 features were designed to help businesses increase their agility in the marketplace. It's expected you'll leverage this product to take full advantage of the new digital economy.
All the functions you need are here in one integrated package -- from customer service and marketing, to project management, operations, analytics and financials.
In true David Letterman style, we've picked our top 17 favorite Microsoft Dynamics features to share – and we cannot contain our excitement.
#17. Monitor and improve the ROI from Microsoft Dynamics 365 through Organization Insights that you can download from the Microsoft App Source page. Organization Insights provides you with a usage dashboard. You'll be able to improve end user adoption and proactively troubleshoot problem areas by tracking how end users utilize the platform. Then you could schedule training to help shore up where adoption is lagging. Your boss will be certain you're psychic – and we won't tell that it's just the smart software you're using.
#16. If you customize the platform, it flows directly to the mobile app you're using. But you have the flexibility to change the mobile app even further, without the customization flowing back to the platform. For example, if you're at a conference and want to see a database contact, a simple box check will eliminate any of the extraneous information that you don't need. So instead of scrolling to find the data on a small handset, you'll get the streamlined information you want when you need it most.
#15. Don't you find it annoying when customer service takes forever because they're clicking between databases to try to understand all the notes related to your problem? The Dynamics 365 Interactive Services Hub features one single dashboard where you manage customer service in one place. It's a global view –all the case information is in one central hub. Easy click and drag allows you to reclassify cases by activity or next task. Emails and follow up tasks are on a single hub, there's no navigation. You can initiate notes, tasks, calls, and emails from one spot. There's even a handy link that suggests follow up articles that could potentially apply to the problem. Watch what happens to your business when one call resolution improves how you handle customer care.
#14. The in-app marketing features connect you with prospects. It provides sales teams with a methodical, efficient process for creating a marketing drip campaign. Send out newsletters, new product info, white papers, event invitations, or anything else you can think up. You can import new lists, and create a campaign that monitors the impact, tracking email open rate or other responses from your target audience. Analytics allows you to create and send reports to show what's working and what's not.
#13. The functions around Field Service Operations management are probably going to knock your hardhat off. From work order management, scheduling and dispatching, to inventory management and customer billing, this is a turnkey solution that a lot of small service oriented businesses can use every day.
#12. Integration is really the core of this new application. Not only did Microsoft manage to pull together cross-platform functions, they expanded on the interoperability between enterprise apps and standard office apps. Instead of switching between basic office applications such as email, Word, or Excel, Microsoft Dynamics 365 integrates these tools. You can stay in the Outlook interface while still building reports or quotes. Workflow-wise, it speeds thinks up and reduces data entry.
#11. Microsoft Dynamics 365 features cater to life on the go. Now you can take business intelligence with you, accessing full functionality of this platform from any digital device.
#10. Speaking of BI, Microsoft Dynamics 365 features predictive analytics and workflow design features that help your business get a lot smarter, faster. The reporting functionality is multi-faceted; you can run a series of canned analytics or design your own reports and send them wherever they need to go automatically.
#09. The Dynamics 365 upgrade is geared for the new Internet of Things (IoT) frontier. Mobile field service workers can use natively embedded apps to monitor and report on assets, while proactively averting customer service issues before they occur.

#08. We have to mention the UI (user interface or user experience) of the platform. It helps that Microsoft is the most popular software for office functions. But Dynamics 365 is just incredibly easy to use. Your start screen was designed like a dashboard, with point and click navigation to the most common things you'll use such as orders, invoices and quotes. There's a collapsible sidebar, too, that helps you navigate, and the action ribbon allows you to store your favorite tools. For an office considering a transition to their first ERP software, this is a no-brainer. (Learning curve? What learning curve?)
#7. Dynamics 365 signals a new era of growth for Microsoft. We believe their purchase of LinkedIn and the release of 365 signals a big shift in how they're engineering software to drive digital transformation – especially in small to medium sized businesses.
#6. Bundled options will allow flexible subscription plans instead of paying per user license. Bundling usually is code for "saving," and we believe 365 will launch a price war between some of the software giants. Stay tuned!
#5. Key Performance Indicators (KPIs) allow you to create benchmarks that track business growth and expenditures. These charts are automatically updated as changes occur. Sales vs. spending can be reviewed at a glance and you can send KPI reports via automated workflows.

#4. Process automation allows you to create workflows that send out update messages and reports to an entire group. For example, if you want to communicate that you've updated a document or report, you can set an alert. Even in the smallest of businesses, this is a dollar-saving efficiency feature that you'll use again and again.

#3. Having a shared data model is a serious time saver. Integrating information across all functions eliminates redundant workflows. It forces employees to work smarter, not harder, so they can focus in on core business functions.

#2. There was considerable debate as to whether AppSource should be top of our list. AppSource is the new Microsoft market for software as a service (SaaS) providers that offers, literally, anything you can imagine. There are currently 200 applications on the site that will extend the already high level of functionality found in Dynamics 365.
#1. First and foremost, we appreciate that Dynamics 365 is cloud-focused. Lodged firmly in Microsoft Azure, this is a platform that translates well across all digital devices. Capitalizing on the immediacy of the cloud, coupled with the familiar look and feel of a Microsoft application, Microsoft Dynamics 365 allows small to medium sized businesses to get up and running fast.
Microsoft Dynamics 365 features -- Look Out, Software Competitors
The new Microsoft Dynamics was designed to compete directly with CRM powerhouse Salesforce.com, and ERP players Oracle and SAP. But don't be fooled – none of these platforms are as user friendly as Dynamics. They also lack the sheer functionality of 365 across multiple business functions that include enterprise resource management, customer relationship management – and more.
If you're using multiple legacy applications to power your business, you must consider a test drive of the latest Microsoft Dynamics 365 features. You can make the switch from CRM to 365 and find out more about the benefits of the new platform, by contacting IES today to find out more. We can help you change the way you do business -- for the better.