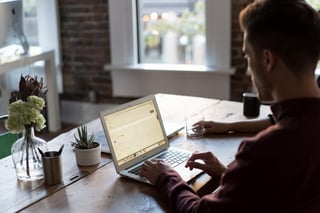 Managing your human resources is perhaps the most delicate and important task you handle for your business. If you mess up the paperwork that comes with managing these teams, it could make your human resource functions much more challenging. It could also make your employees very unhappy – and unproductive.
In fact, your business could come to a screeching halt if HR is out of order.
From an employee perspective, payroll is one of the most important tasks you must accomplish each week. The bottom line is that's really why employees come to work every day. If you get payroll wrong, the impact could be very detrimental to the productivity of your business and the longevity of your employees.
Fortunately for you, there are advanced payroll functions in software like Dynamics GP that can help you stay on track. We've assembled our top five benefits of this software for your perusal. We think you'll find it a foolproof way to keep your employees satisfied.
A Look at Advanced Payroll for Microsoft Dynamics GP
The Advanced Payroll Module is an add-on to the baseline Dynamics GP payroll software. The goal is to extend the basic functions of this platform by assisting with the most complex time and labor tracking. These functions could be applied across a number of industries, whether you are dealing with multiple pay rates based upon location or hour worked, bonus calculations, pay rates by project, and much more. With this module, we have to say that Microsoft has thought of every advanced payroll situation and now have a solution for all of them.
Having the additional functionality that comes with adding the Advanced Payroll module for Microsoft Dynamics GP could be exactly what your business needs. Advanced Payrolls has a number of useful features, including:
Advanced labor reporting

Employee payroll splits

Labor accrual manager

Pay policy manager

Payroll hours to general ledger
The module was designed to help businesses streamline payroll processes to accommodate and improve accuracy. Its chief benefit is that it adds additional flexibility to an already robust piece of software. Advanced Payroll covers your processes from end-to-end from time tracking to direct deposit and check printing.
Advanced Payroll integrates with Dynamics 365 across project tools, accounts payable and general ledger. This makes for error-free accounting and facilitates a reduction in redundant processes. Advanced Payroll can help your business:
Perform a deep-dive financial analysis, right down to individual employees or specific positions.

Automate local and national taxes, benefits, union dues, or other payroll deductions.

Generate reporting such as employee pay statements by the individual, or submissions to regulatory bodies such as immigration services or state labor boards.

Provide a comprehensive historical record of all actions related to payroll.
Advanced payroll in Dynamics GP can help your business reduce overhead costs by lessening the amount of time you spend preparing payroll, which also reducing errors. Also, the most complex payroll functions can be standardized and then automated in this platform. Compliance will automatically improve. Last but certainly not least, those pesky, complicated calculations won't have to be done by hand – automated functions will lesson mistakes and improve your payroll accuracy.
Now let's look at the benefits by function and how they can help specific industries adapt to today's complicated payroll requirements.
Five by Five – Advance Payroll Benefits
There are five key functions within Advanced Payroll for Dynamics GP. Let's break them down by key tasks, benefits, and features.
First, the Advanced Labor Reporting feels like a powerful combination of enterprise resource planning and payroll software. This section of the module extends the reporting mechanisms in Dynamics GP to include financial data and payroll. It helps payroll managers in areas such as cash flow and profitability margins. Use this feature to create FTE reports and billable time versus overhead charts. By using this feature, you will be able to compare the costs of labor against the production of your employees, then create budgets and long-term projections.

This is particularly valuable anytime you're billing hours and materials, such as in a consulting or law firm. Being able to compare the variances in employee productivity will be incredibly valuable; it will help you see who your big producers are, but also help you more accurately price your services in your next proposal.

This section of Advanced Payroll is also beneficial for inter-departmental reporting. Each department manager can create a dashboard to measure the employees they supervise. You can code your screens by productive or non-productive (overhead) employees, then measure output and profitability by department.
Second, Employee Payroll Splits is a great feature that lets you divide an employees time by cost center or by departments at a certain percentage. For example, if an employee spends 50% of their time in one department and 50% in another, that cost can now be attributed to those individual cost centers. This is a particularly valuable feature for non-profits who need to spell out time for grant reporting – you can pull payroll out of two separate cost centers, and then run reporting that proves to the grantor how you spent their money.

This function works well for salary or hourly employees, and beyond splitting how they're paid; it also divides benefits and taxes across 25 different departments.
Third, the Labor Accrual Manager function is simple to set up but complex in function. It lets managers divide payroll between several time periods by accounting for payroll accruals not covered in the prior pay period. This function lets you assign payroll expenses to the actual time frame they fell in, whether it is weeks, months, or years. It covers taxes, gross wagers, benefits, and all other payroll categories.


Fourth, check out the Pay Policy Manager section of Advanced Payroll. It's perfect if you have to assign pay rates across different functions, departments, or shifts. When you enter transactions the pay rate can be adjusted by employee, pay code, company, department, shift, or position. This is extremely helpful for organizations that bill by type of service or activity conducted.

For example, in healthcare, hospitals, and clinics bill insurance companies or Medicaid/Medicare by different functions. Every procedure is reimbursed by the insurance carriers at different rates of pay and by the type of provider, which is very complicated without a system like Advanced Payroll.

This module also allows you to vary the pay in a variety of ways. Another good example of how to use Advance Payroll is with workers in the oil and gas industry. Did you know offshore oil well drillers receive one rate of pay when they're in the helicopter being transported to the offshore oil platform? Then, as soon as they step on board the oilrig, their pay rate increases. This module can capture all that level of detail, and more.

Pay Policy Manager also lets you separate rates by either a dollar amount or a percentage. You can set it to capture time and a half, or any other variances, and it will automatically calculate taxes and benefits to fit whatever pay rate the employee is working in. Or, if a bonus should be calculated in if a milestone is achieved, this can be added.


The fifth benefit of Advance Payroll for Dynamics GP is the Payroll Hours to the General Ledger. This function will go a long way toward helping your organization understand how each department can impact overall profit margins. It lets you set up separate accounts for each department and track the hours utilized by employees. To access these reports, you just go to the main payroll posting accounts dashboard, where the Payroll Hours window is embedded. From this section, you can create reports to show by-department numbers that cover each employee's cost and profitability.
These are some of our favorite benefits in the Advanced Payroll for Dynamics GP module. Manual calculations will disappear along with any payroll mistakes that could cause you – and your employees to have a very bad day.
Advanced Payroll for Dynamics GP
Payroll benefits with processes are streamlined. That's the true benefit of Advanced Payroll for Dynamics GP. This add-on module helps create predictability in even the most complicated of processes. These are powerful, flexible tools that help you work smarter while handling the serious business of making sure your employees get paid properly and on time.
Even the most complex payrolls can be handled; you can set up systems for union and non-union employees, or pay salaries from multiple accounts, or add in shift differentials – or other variances. Whether these are one-time or consistent, Advanced Payroll for Dynamics GP can handle these functions.
We highly encourage you to test drive the Advanced Payroll for Dynamics GP module. It can help your company with reporting to government agencies, grantors, tax boards, or create inter-departmental checks and balances that track labor and productivity. No matter what your goals are, if you're dealing with complicated payrolls that exist across state lines, or with different cost codes, this is must-have software.