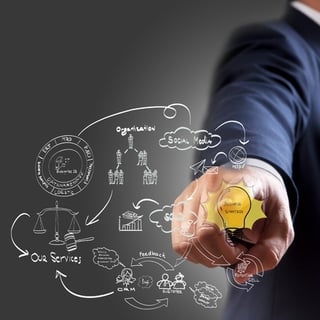 Microsoft has been surprising us lately.
We're not talking about the announcement in mid-November that Microsoft has launched a new era of openness and inclusivity across platforms they normally rejected, forging new partnerships that consumers will benefit from.
We're not even talking about their announcement that they're bringing Visual Studio to Mac. (People are still talking about this one as if it's a sign of the end of times.)
Instead, we want to talk about Microsoft Dynamics, the enterprise resource planning (ERP) platform. Dynamics was created to integrate multiple business operations and planning functions under a single software package. The fact that Microsoft was able to create one unified solution for a host of business functions was surprising enough; but users say the platform takes that functionality to a whole new level.
Here are what our customers say are their top five surprising Microsoft Dynamics Facts:
1. The email is almost psychic
Dynamics email integration simply has to make any list of top surprising Microsoft Dynamics facts. It's just that smart:
Automated emails flag important transactions like unapproved purchase orders or past due invoices.
Out-of the-box business forms include quotes, purchase orders, invoices, and more. If you know how to edit in Word, you can easily customize these templates.
You can also create unique email messages to go out with templates and even send them in a client-preferred format including DOCX, HTML, PDF and more.
2. Platform integration practically does the work for you
The ability to move seamlessly between MS Dynamics GP and Dynamics CRM helps reduce redundant tasks across supply chain, financials, sales, and service. Microsoft did a great job incorporating the data captured in these pods into analytics reporting functionality that fuels the most intelligent of decision-making for your business.
3. Customer choice when it comes to data imports
There are at least three ways to integrate data into GP:
Via The Integration Manager graphical interface.
eConnect, a set of tools that allows applications to integrate across Dynamics GP.
Or, of course, Microsoft Dynamics web service interface.
4. Now your sales reps can work anywhere
You might have to "blame" Microsoft for an increase in closed deals, because now there's a CRM app for mobile. We love that the data you enter in the app isn't lost if you lose a signal, it's simply cached until connectivity is restored. Now you can even export files via your cell.
5. Customization in the cloud is cool
Who doesn't love out-of-the-box functionality, right? But for those times when the cookie cutter just won't do it, Dynamics offers a surprisingly pleasant level of customization. You can add plug-ins or automate workflows ad infinitum.
6. Microsoft Dynamics Facts
These are just five of our current favorite surprising Microsoft Dynamics facts. But, the truth is, there is so much functionality built into this powerhouse software platform that it's likely that you'll have some of your own favorite surprises to share.