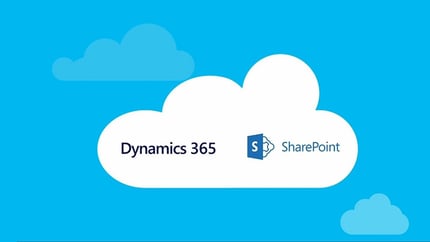 So, here's a dilemma: Not all software systems are configured properly to play nice with others. Fortunately, in the case of Dynamics 365 and SharePoint, since both are Microsoft products, they naturally integrate well with each other. Microsoft has worked hard to create an umbrella of office software suitable for the largest enterprise organizations or the solo entrepreneur.
However, Dynamics 365 SharePoint integration is necessary to optimize the ROI on these products. This article will help you understand why Dynamics 365 SharePoint integration not only matters – but why it's imperative for your business.
Defining a Need - Dynamics 365 SharePoint Integration
Dynamics 365 is office productivity package with baked-in customer relationship management (CRM) software. The CRM is designed to handle all contacts with a customer, from sales to back-end billing. It can serve as an important focal point for all client interaction, but while it can store documents and data, that isn't its primary function. There is a notes section in the CRM where information can be stored, but this takes up storage space that may necessitate an upgrade. Also, the notes feature in Dynamics 365 does not allow for version control that you find in SharePoint.
The good news is, with a few tweaks, Dynamics 365 SharePoint integration can be achieved that allows companies to store documents associated with specific records in the CRM. One integrated, the user will see a grid within Dynamics 365 that shows where documents tied to a specific customer record are stored in SharePoint.
Benefits of Dynamics 365 SharePoint Integration
The real benefit of this integration is that it allows you to work with documents on both platforms. If you delete a document in Dynamics 365 CRM, it will also disappear from SharePoint. (Conversely, if you delete the CRM record, it will not delete files from SharePoint.) Too, the security rules can be the same or different between the software programs. Also, Dynamics 365 SharePoint integration will allow SharePoint to sync to Outlook or your desktop library. It will also enable the ability to search through documents and SharePoint libraries.
What's also cool about Dynamics 365 SharePoint integration is that if you don't like the default infrastructure for storing and mapping shared files, you can build your architecture. You could set up different types of libraries in SharePoint by site and then link them to Dynamics 365. These tweaks are accomplished within Dynamics 365 Settings/Document Management.
Why Integrate?
The whole point of the Microsoft universe is that office functions, sophisticated CRM activities, accounting, analytics, and much more work together in a way that eliminates redundant tasks while allowing for better communication between teams. Improving upon the out-of-the-box Dynamics 365 SharePoint integration means more efficiency and a higher ROI from all of these tools.
Talk with IES today about how we can help you optimize all of your Microsoft products.