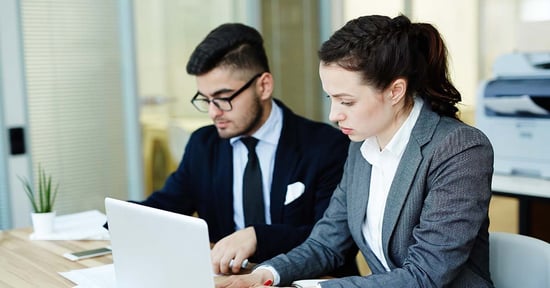 For years, Dynamics AX's robust enterprise resource planning (ERP) capabilities provided enterprise users the tools to manage critical business functions like finance, e-commerce, retail, and project management. As the landscape continues to evolve with the introduction of new technology, Microsoft sees Dynamics 365 as the future of ERP solutions.
The cloud-based platform allows organizations to transform into modern digital enterprises. Companies with questions regarding the benefits of Dynamics AX vs. 365 can use this article to determine whether an upgrade is in their best interests.
What is Dynamics AX?
Microsoft Dynamics AX helps companies become more efficient by running backend processes and routine tasks. The business functionality supports essential departments like human resources and inventory management. Dynamics AX also supports using business intelligence tools that help analysts review critical data.
Smaller companies benefit by reducing the number of people required to perform mundane tasks. Dynamics AX lets the automate functions involving data entry, reducing human errors. Other benefits provided by Dynamics AX include:
Advanced analytics to support data-driven business decisions
Improved customer service
Unified financial systems
The analytical features in Dynamics AX let companies become proactive about locating and resolving issues affecting customers, leading to better customer service. It also boosts logistics management capabilities, allowing businesses to get products to customers more quickly.
Organizations save money on operational costs because Dynamics AX lowers the need for additional human resources. The platform also supports speeding up supply chain processes and eliminating human errors that harm efficiency efforts.
Having data in a centralized platform lets business users see what's happening with assets. Decision-makers can more easily find areas of improvement in business processes. Dynamics AX sets up predictive analysis by collecting business data from different sources. That way, companies can gain insights from every part of their operations.
What is Dynamics 365?
There's no denying Dynamics AX's impact on the business world. There's a reason many organizations still rely on it to support their business needs. Because it's mainly an on-premises solution, companies looking to move forward into the world of the cloud might feel held back by that limitation.
That's where Dynamics 365 comes in. Even with recent upgrades to Dynamics AX, it can still fall behind the advanced analytics capabilities of Dynamics 365. Business users now have a platform capable of handling more complex reporting needs.
Dynamics 365's intuitive UI improves upon the Dynamics AX interface while retaining many familiar characteristics. The platform handles the same core operational functions, including finance, client management, and accounting.
In addition, everyone in the organization can create a customized workspace to fit their needs. Users can also build forms with fields needed to accommodate various work processes. Dynamics CRM eliminates the siloed nature of traditional ERP and customer relationship management (CRM) platforms.
What Advantages Does Dynamics 365 Offer over Dynamics AX?
On the surface, there appear to be a lot of similarities between Dynamics AX vs. Dynamics 365. Small business owners who are happy with the functionality of Dynamics AX might question the need to move to Dynamics 365.
It comes down to becoming a company capable of thriving in today's digital world. With so many operations moving to the cloud, an on-premises solution can become a hindrance. On-premises solutions require an on-premises support staff to maintain the hardware and servers. IT staff must also handle any upgrades, which leads to higher costs tied to:
Software monitoring
Cybersecurity
Server space
Equipment maintenance
Storage upgrades
Preventative maintenance
Let's look at where Dynamics 365 offers some real advantages over Dynamics AX.
1. Lower IT Costs
Dynamics 365 uses Azure Cloud as its foundation. Organizations don't have to invest in new server hardware to support the platform. Companies pay a subscription rate covering the services required to support business users. That's money saved on licenses and staff. The subscription-based nature of Dynamics 365 means that companies can upgrade by adding more options to their subscription.
2. Better Integration Support
Dynamics 365 integrates seamlessly with other Microsoft platforms like Microsoft 365, Power BI, Power Automate, and other Dynamics 365 modules. Businesses can connect Dynamics 365 to solutions like LinkedIn Sales Navigator, Service Now, and Oracle. Those integrations make it possible for users to collaborate, which improves efficiency.
3. More Robust Security
Built-in enterprise-grade security protects connections and prevents malicious attacks and attempts at data theft. The authentication process helps ensure that only authorized users gain access to the Dynamics 365 environment. Another advantage that Dynamics 365 has over Dynamics AX is complete visibility into data and security at an organizational level. Organizations have an easier time identifying risks and responding to attacks.
4. More Customizable
Dynamics 365 offers customers more flexibility in the setup of their business platform. Working with a Microsoft Certified Partner like Internet eBusiness Solutions (IES) gives organizations more control over the services and applications to support critical business functions. IES also accommodates the need for future changes by helping companies find new opportunities to use Dynamics 365 to optimize every aspect of the business.
5. No Complicated Upgrade
Anyone who's worked with Dynamics AX understands the complexity of upgrading the Application Layers that form the platform's foundation. Moving to Dynamics 365 relieves IT teams of the burden of manually installing service and feature packs. There's also no longer a need to deal with hotfixes. Those functions get handled automatically once you upgrade to Dynamics 365. Deployments are also easier because automation eliminates the need for installing and configuring software on different machines.
Get Help With Your Dynamics 365 Upgrade
IES has years of experience helping organizations transition from older platforms. Our team of experts helps businesses with everything from mapping out current business workflows to performing post-installation checks on the functionality of a new platform. Contact IES today to learn how we can help your company position itself for the future.