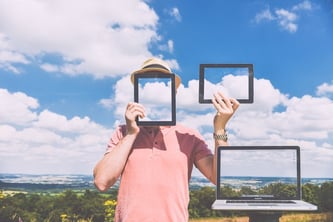 Cloud computing has changed everything. It's allowed smaller businesses access to the same tools enterprise organizations had been using for competitive advantage.
One of those tools, ERP software, has been coveted by small and mid-sized businesses seeking new ways to gain actionable insight about their business processes.
Applying enterprise resource planning tools like Dynamics ERP has allowed companies to keep pace with competitors by streamlining business workflows. It has enabled responsiveness to customer demands and strengthened their distributor partnerships.
As the technology evolves, you can bet Microsoft will be at the forefront of the innovation ahead. Let's look at some of the industry, business, and cultural trends that will affect the ERP platform of the future.
What's Next for Microsoft Dynamics ERP?
Trends analysis suggests there are a number of disruptive factors that could influence the ERP software market in the future:
Cloud computing will become the new normal. We expect at least another year or two of intensive cloud migration, as large, disparate enterprises finally move all or part of their big data into the cloud. This transition signals a stabilization of the marketplace; the cloud has, after all, been with us for a decade. As part of this trend, software-as-a-service (SaaS) models featuring ERP like Microsoft Dynamics will continue to gain popularity as a self-service, feature rich
ERP startups will disrupt stable providers. While more choices are a good thing, we anticipate M&A activity as major players meld resources with ERP competitors. More established ERP providers such as Microsoft will continue to upgrade their offerings, either through internal innovation or acquisitions, to remain competitive – which is never a bad thing for consumers.
The IoT will continue to produce big data. If you've not heard the term, the Internet of Things refers to the combination of hardware sensors that you find everywhere– from your car to the smart watch on your wrist – and the cloud. The data captured by these devices is sent through the Internet so manufacturers can understand statistics such as usage patterns and equipment performance. Increasingly this data will be stored in the cloud, which translates to good news for ERP providers. The interoperability between cloud data and cloud-based software is a given. ERP platforms allow remote or desktop access to this information and a way for the average user to take an unmanageable amount of raw data and turn it into actionable insight.
Social media integrations with ERP software will continue to improve. Gleaning insight from social media trends is imperative, and ERP software allows even the largest of companies to analyze what customers are saying into their products and services and shift course, if needed, to improve public perception.
Microsoft Dynamics ERP Future State
No matter what happens next, in the SaaS ERP market, IES will be there to help guide customers as they seek to use this technology in the most efficient way possible. Contact us for a demo of Microsoft Dynamics ERP to find out how it can help your business stay ahead of these and other evolving trends in the cloud.