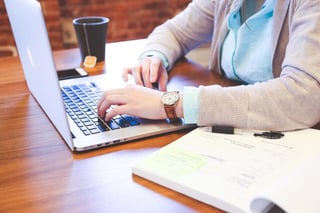 Microsoft just announced they're making big changes to their Dynamics 365 offerings for next year. What this illustrates is that technology giant Microsoft is listening closely to what consumers are clamoring for. This latest effort to repackage and streamline their services and software shows that Microsoft hasn't lost sight of what's important to their business -- you.
Microsoft Dynamics 365 and a New Year's Resolution
The first and most important rule of thumb for any business model is that the customer is always right. While technically we know that sometimes that may not be precisely true, what it means is that a business, no matter how large, must always pay attention to consumer product reviews and requests for services.
Alysa Taylor, the General Manager of Business Apps and Strategy at Microsoft illustrated this idea brilliantly in a blog she just published on the company website. In it, she spoke about meeting with Microsoft Dynamics partners like IES at an annual company event called the Inner Circle dinner. It's Microsoft's way of reaching out to their teams of on-the-ground solutions providers, so we can pass along the feedback we've gathered from you, our clients, during the past year of our day-to-day interactions.
As a result of these face-to-face idea sharing and ideas sessions, Microsoft is making some much-needed changes to their Dynamics 365 product. In fact, Dynamics 365 users been asking for many of these changes for some time.
The biggest theme of the feedback Taylor and the other Microsoft executives heard from us was the need for simplification of the pricing structure and product offering for Microsoft Dynamics 365. Or, in Taylor's own words:
Microsoft will offer a single collection of Dynamics 365 applications or customers of all sizes and complexity to digitally transform their organizations across all lines of business – Marketing, Sales, Service, Finance, Operations, and Talent – at their own pace.
You can read the full blog here, and then join the IES team in excitedly waiting for the next iteration of innovative products from Microsoft that will be geared precisely toward the unique wants and needs of your business. These changes will roll out in 2018 with new ala carte offerings and end-to-end packages that include Dynamics 365 Finance and Operations Business Edition and Dynamics NAV as a package. It will be offered in two distinct services:
A Dynamics 365 cloud application solution with a single business management platform encompassing financial management, operations, project management, and sales.
A business applications platform with vertical cloud solutions for customers.
These new services will be offered through the partner-vendor channels, and while we haven't seen specifics on the new packages or their pricing, we feel confident that next year's offerings are going to continue to impress – whether you're in a small, medium, or enterprise company.
As always, don't hesitate to contact the talent team at IES with any configuration, installation, or maintenance issues. If you are looking to improve your business workflows, we have a unique product offering that will fit your goals and your budget.