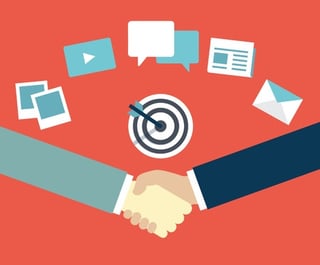 Improving the efficacy of your customer relationship management workflows isn't just a good goal. In today's competitive markets, it's a business imperative.
The customer relationship management life cycle begins with marketing, travels to sales, hands off to operations, and then circles back to sales and marketing to maintain the relationship, and upsell the client. This is a cyclical process that can hugely affect your bottom line. Managing this cycle can mean the difference between customer retention and customer churn.
So how can you improve the efficiency of these processes?
It turns out the right software coupled with smart marketing automation can make all the difference.
FIVE EXAMPLES OF CUSTOMER RELATIONSHIP MANAGEMENT
We've pulled together five examples of customer relationship management techniques made better with the use of a sophisticated Customer Relationship Management (CRM) tool like Microsoft Dynamics. Utilizing software to streamline, automate, and organize all client functions will help your teams function more effectively and concentrate more completely on their most important job—keeping the customer satisfied.
CRMs help by

automating a consistent response whenever customer contact occurs. That could be a simple thank you or a survey to gauge your effectiveness. This is an excellent example of customer relationship management—it helps you keep the conversation going. It can also help you respond more quickly to an emailed complaint by sending an immediate response saying, "We're on it!"
Business Analytics are the hottest thing since the Internet, and a CRM like Microsoft Dynamics can spot trends before they escalate. One of our favorite examples of customer relationship management is using a CRM to analyze customer segments experiencing a specific product problem. A CRM can help you potentially fix the issue before it accelerates into a company-wide problem.
A more specific example includes the case of

Wells Fargo, a financial services organization with more than 70 million customers. They use their CRM as a way to connect and manage client social media responses along with improving their response time to customer questions. Wells Fargo utilizes CRM software through the cloud to provide the most effective customer service and streamlined efficiencies across the enterprise.
CIO

magazine suggests using your CRM to

track customer activity

throughout their lifecycle—from prospect to existing client upsell. Tracking key behaviors from social media posts to content click rates on an email campaign will help your company

understand what's important to customers and what isn't.
Improving customer relationship management means having the

efficiency of syncing between mobile phones, calendars, reporting, and other client interactions.

Having a CRM that goes where you go will improve the customer experience. At the same time, syncing data across applications will lessen duplicate work. A CRM should allow you to move between multiple platforms while updating data in real-time.
The good news is that many of these sophisticated processes are automated in customer relationship management platforms, also called customer management systems (CMS), like Microsoft Dynamics.
What is a customer management system? Why is automating your customer relationship management so important? Let's look at how Dynamics can improve the power of your marketing and sales teams while keeping in constant contact with potential customers so that when they're ready to buy, they'll think of you first.
CRM Examples of MARKETING AUTOMATION
Marketing is made up of dozens upon dozens of tedious tasks. Automating these tasks is a smart way to improve the efficiency of everyone that connects with customers and leads. Some CRM examples of automation include:
Sending out a thank you when a customer makes a purchase.
Upsell or cross-sell a client if they purchase a particular product.
Offering a birthday greeting with a promo code.
Sending a discount to a customer that hasn't made a purchase recently.
Tying a content download to a specific product pitch.
Notifying current customers when a new product has been launched.
Sending an email to people that abandon purchases in their shopping cart without buying.
Offering "just in time" ordering.
Notifying customers when an item on their wish list goes on sale.
Providing after-the-sale support in the form of a helpful how-to or tips on how to upgrade.
Sending customers information on new products they might be interested in, based on prior purchases.
Conducting customer satisfaction surveys.
All of these automation ideas can be coordinated within the context of other marketing campaigns to include print or web advertising or even "warm" calls from sales reps. The point is that your CRM will let you stagger automation into your regular sales and marketing efforts to create a long-term drip campaign. These campaigns can nurture even the most reluctant buyer into converting. Marketing automation ups the ante on sales prospecting activity while cutting the amount of time wasted on mundane tasks.
It's important to realize that these CRM examples and customer relationship management techniques are focused on external communications with clients. But a customer relationship management platform can also use automation to improve internal activities. For example, you could customize and automate sales reports each week to go to internal staff. Or, contracts generated by a sales team could be funneled through an internal decision-tree during an approval process. When the contract is completed, it could ping billing or operations to let them know to proceed with a project.
Automation can occur tied to a set of various triggers that are manual or automatic. Automatic triggers could launch a process tied to new contract creation, for example. Or, if the customer downloads a white paper, it could alert a particular sales rep in that territory to follow up with the potential customer. The point is that you set the workflows by letting the software take on a lot of these basic tasks.
This automation is likely in the form of an email, but it certainly doesn't have to be. Today's CRMs are highly sophisticated. Here's one potential workflow to consider:
Step 1 -- Potential customer downloads a white paper from a landing page.
Step 2 -- The data captured from the landing page can automatically be loaded into the CRM.
Step 3 – The data can also be added to a weekly report for a sales manager to see the number of new leads coming in.
Steps 4, 5 and 6 -- It can also send a series of emails to the potential customer spread out over a few weeks.
Step 7 – If the lead still hasn't made a purchase, automation can trigger a tickler in the CRM for the sales rep to call them.
Step 8 – After the sales rep calls the lead if they make a purchase, it triggers contract automation. If they don't, depending on the CRM flag added by the sales rep, the lead could start to receive regular "cold" automated messages to get them more familiar with the brand.
The Online Marketing Institute says it takes seven to 13 touches with a prospective lead before they are converted to a sale. If this is true, why not make the best use of your sales team by letting marketing automation warm up the leads for your sales reps. Using smarter marketing techniques and customer relationship management techniques will improve your sales team's productivity and as well as your bottom line.
That's how powerful customer relationship management software can be. That's why, if you're asking yourself the question, "what is a customer management system," it's important to know how effective they can be for your business.
HOW CAN MICROSOFT DYNAMICS IMPROVE CUSTOMER RELATIONSHIPS?
If a customer doesn't trust your brand, they simply will not buy from you. CRM examples in business applications show that these platforms can be effectively used to build a positive reputation as a thought leader in the marketplace. Arming your front-end sales team and your backend marketing and data analytics staff with a powerful CRM like Microsoft Dynamics can have a direct ROI in new sales, repeat customers, and more lead generation.
A CRM can not only take manual processes and make them automatic, but it can also be used to enforce best practices for a sales team by tracking and reporting on their activities. But these best-in-class platforms can also improve the customer relationship by automatically supplying new clients with the information they need when they need it most.
Sophisticated customer relationship management tools like Microsoft Dynamics can be applied across the organization, not just as part of external sales. Integrating the CRM across the client's lifecycle will improve retention and increase new sales.
A CRM can also help by ensuring your client data remains consistent; email bounces can be set to scrub right out of the database. Signed contracts can be added to the customer record. Because Dynamics is in the cloud, these changes can happen in real-time, creating a unified 360-view of customer service, sales, and marketing. There is simply no better software for maintaining an accurate picture of your clients and prospects.
For more examples of customer relationship management and how the right tools can make it easier and more effective, contact IES.