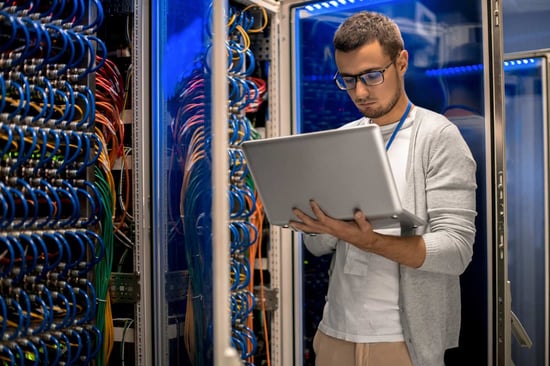 When disaster strikes, the last thing you want is for your company to lose all the information stored in your Dynamics 365 instance. You need a disaster and backup recovery plan to ensure you retain your data and get your business back up and running quickly. Investing in a robust Dynamics 365 Backup and Disaster Recovery plan protects data and keeps you from losing valuable business information. Let's look at how you can implement a cloud disaster recovery plan for Microsoft Dynamics 365.
Elements of Dynamics 365 Disaster Recovery
When planning your recovery policies, you must account for the following elements.
1. Your Inventory
The first thing you must do is catalog all the various elements connected to Dynamics 365. That includes database instances feeding your platform, including SQL Server databases. If you have a SharePoint integration, you also have to account for backing up that information.
2. Critical Resources
After doing inventory on critical network infrastructure related to your cloud disaster recovery plan, assign each component a priority based on how essential they are to running your business. If losing a resource would put your organization at risk of losing customers and data, it needs to be high on your list.
3. Roles and Responsibilities
Everyone involved in working with and maintaining your Dynamics 365 instance should understand what they are responsible for if it goes down. Personnel responsible for backing up data should understand the scheduling of production environment backups. They should immediately know if the company complies with the Microsoft business continuity and disaster recovery (BCDR) standard. Other responsibilities that members of the recovery team might hold include the following:
What backup technology is being used

How long backup systems retain data

What information gets included in daily backup for the Dynamics 365 server

Whether there are automated backups, like a Dynamics 365 backup to Azure

How often your organization performs full backups vs. differential backups

If transactional logs also get backed up
Developing a Dynamics 365 Backup and Restore Plan
Once you have a good understanding of essential information to include in your Dynamics 365 online backup and restore plan. Having a good plan in place positions you to leverage your cloud services correctly and enact robust procedures to follow in case a disastrous event takes down your infrastructure.
1. Remain Proactive About Disaster Planning
Disaster can strike in the form of water, fire, or the earth shifting beneath your feet. You must also account for man-made disasters like cyberattacks that lock you out of your systems. Other disasters that could affect your Dynamics 365 platform include the following:
Structural server failures

Local disasters

Tornadoes

Hurricanes

Power outages
You should have a disaster and recovery planning team with the skills and knowledge necessary to outline a robust Dynamics 365 recovery and disaster plan. Having a designated task force means they can quickly move through drafting the procedures and accounting for contingencies that could stop your company from operating.
2. Identify Critical Dynamics 365 Functions
Perform a business analysis of crucial business processes carried out using Dynamics 365. What happens to your customer service team if they can't access the CRM? How will your accounting team continue inputting critical data if the finance module isn't available?
You must think about how not being able to complete these functions would affect your company's ability to operate. Your disaster plan also needs to consider what assets are required to keep the platform running, like connected databases or third-party applications.
3. Set Up Emergency Response Procedures
A company's response to an emergency or disaster that impacts Dynamics 365 must account for factors like what the law requires and other compliance issues. Ensure your documentation is easily understood and accessible even if Dynamics 365 goes down. Instructions should cover how to complete critical business functions or whom to contact about getting vital modules functioning again.
Many companies rely on managed IT services to help them draft Dynamics 365 cloud disaster recovery procedures. A partner like Internet eBusiness Solutions (IES) understands how to leverage cloud services for critical backups and data recovery. They can also ensure that backups are immediately available in an emergency. It helps to have experts like our staff come in and start the recovery processes to ensure a successful outcome.
4. Conduct Routine Tests
You need to run through your Dynamics 365 online backup plan routinely. It benefits everyone involved in the process by reducing the time it takes to enact the procedures in a real emergency. You can figure out where things might go wrong and address those concerns.
IES can facilitate stress-testing of your Dynamics 365 disaster recovery plan through audits and reviews. This can be especially helpful for growing companies to help them assess the risks that might come with their ongoing success.
The Importance of Disaster Recovery Policies
The last thing you want to do is leave things to chance. If there's a huge storm taking out power lines in your area, you want to ensure you return to normal operations quickly. Internet eBusiness Solutions can help you navigate the aftermath of a disaster and how it affects your cloud infrastructure, including your Dynamics 365 instance.
IES's team of experts can help you establish your disaster and recovery plan goals, ensure you have functional backups in critical situations, and remain protected against natural and man-made threats. We can configure your Dynamics 365 backup solutions and run them on a regular schedule. Our team can also help you recover mission-critical data and perform a full system restores if necessary.
We can guide you through setting up effective disaster recovery policies for your business systems and applications. Schedule an appointment today to speak with one of our Microsoft technology experts.