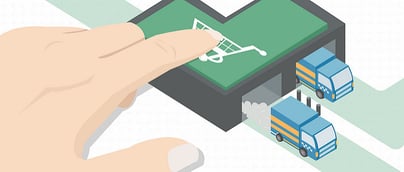 Microsoft Dynamics GP takes care of virtually all of your business needs. But did you know that it can also take care of your storefront? By adding an e-Commerce shopping cart to Microsoft Dynamics GP, you can handle all of your sales, order processing, and inventory handling through a single consolidated platform. This streamlined system will save on both administrative hours and expenses. There are a few different options available depending on your company's needs.
Get a Third-Party App
Many e-Commerce shopping cart suites support Microsoft Dynamics GP out of the box. These shopping carts usually need to be configured or have additional plug-ins installed, and then they will port data directly to and from Microsoft Dynamics GP. This is one of the major advantages of MS Dynamics: it's popular and well-supported enough that many integrated features are already available.
Many e-Commerce shopping carts will come with additional commerce solutions, making this one of the fastest and easiest ways to deploy. The only caveat is that you will be limited by the feature set of the third-party solution. There are both open source solutions and commercial solutions available depending on the needs of your company.
Use a Middleware Integrator
If you're going to be tying together multiple applications, a middleware solution may be your best bet. A middleware platform will act as an intermediary between all of your network's applications, syncing and trading data back and forth. Through a middleware integrator, you can generally link together a variety of solutions: Microsoft Dynamics GP, third-party shopping carts, and more. The best way to perform this type of integration is with an MS Dynamics expert. A middleware integrator frees you to add to your system later on, if you suspect that your e-Commerce solution may eventually grow in complexity. It's also usually the best option if you have an e-Commerce shopping cart that doesn't natively support MS Dynamics GP.
Develop From the Ground Up
With the aid of the Microsoft Dynamics GP API, it is possible to develop a custom solution. This is generally only useful if the business is exceptionally unique or has unusually high requirements. Developing from the ground up is the most costly and time-consuming solution, but it does offer a business a completely proprietary, tailored solution. Developing from the ground up is the most difficult task, and thus requires an expert to maintain not only the stability of the system but also the security of the e-Commerce functions. Developing a custom solution can also sometimes be done with the aid of an open source integrator as an entry point.

Because Microsoft Dynamics GP can be well-integrated into a variety of e-Commerce platforms, it's important to have the advice of an expert. Integration can be a costly and complex process if it's not performed by an expert with the right tools. A Microsoft Dynamics GP partner can give you more information on the best products for your business, in addition to guidance throughout the process of integration. Contact IES today to learn more about getting your Microsoft Dynamics GP shopping cart up and running.
Image Source: Tech in Asia