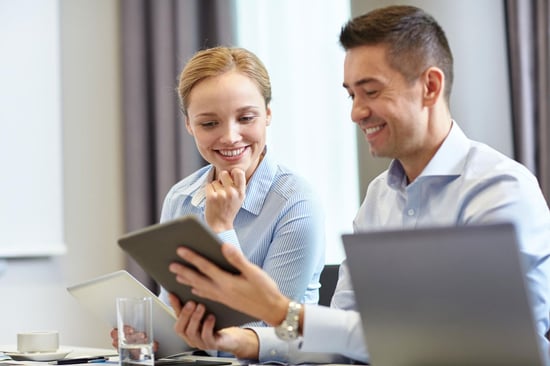 Businesses need software capable of helping them adapt to an increasingly online environment. While on-premises tools still have their place, many companies are looking for technology capable of helping them achieve a complete digital transformation. Microsoft anticipated this shift years ago. It's the main reason they moved many of their popular enterprise resource planning (ERP) tools over to the cloud. The Microsoft Dynamics 365 platform is thought by many to be the best ERP for small business solutions.
What is Microsoft Dynamics 365?
Microsoft Dynamics 365 provides organizations with the benefits of an ERP and customer resource management tool. Small businesses can more easily coordinate how data flows between different areas and create a single data source for use within business operations throughout a company. It's possible to link information for business areas like operations, finance, manufacturing, and human resources within a single platform.
The most significant benefit to small companies is the elimination of silos that often happen when you use multiple applications that don't talk to each other. There's no longer a need to set up complicated code within each system to handle specific business requirements. Instead, Dynamics 365 makes it possible to combine all processes into one fluid ecosystem.
Importance of a Cloud ERP for Small Business
Smaller companies typically do not have the financial or staffing resources available to larger enterprises. Many do not have an IT shop or only have a small core team working hard to keep everything together. It's unlikely that these businesses can pay for and maintain multiple servers needed to scale IT infrastructure as a company looks to expand. Because of that, organizations might feel stymied in their attempts to grow their business.
That's no longer a concern, thanks to the ERP capabilities provided by Dynamics 365. Companies pay a monthly subscription fee for access to business tools. There's no need to spend big dollars on server hardware. Microsoft takes care of protecting your data and expanding the servers to accommodate your organizational growth. Investing in a cloud ERP for small business lets you:
Optimize the performance of your business processes
Offer added flexibility to employees
Move with more agility and adapt to market change
Take advantage of new business opportunities
Signs Your Small Business Needs Cloud ERP Software
While some in your organization might be satisfied with your current ERP, that doesn't mean there isn't room for improvement. Moving to cloud ERP software might benefit small businesses dealing with the following issues.
1. You're unable to grow
You may get by with your current ERP, but the basic functionality may not scale at the rate you need. If your company can't pursue opportunities for expansion because of the limitations of your on-premises technology, it might be time to think of moving to a cloud solution.
2. It's hard to make customers happy
If you're having trouble meeting your customers' needs, it might be time to look into a different kind of ERP. Giving your employees what they need to provide a better customer experience helps you come out on top against other competitors.
3. You're bouncing from one system to another
Sometimes businesses invest in a lot of different technology that's not capable of talking to each other. For example, your accounting software might not integrate with your CRM. Dynamics 365 lets you create a single ecosystem where employees can access the information needed to complete business tasks for their department.
Benefits of Dynamics 365 for Small Companies
Investing in a cloud ERP solution helps small businesses cover multiple core functions. They get to remove barriers hindering effective communication between departments. It's also easier to adapt a cloud ERP to handle new or changing business priorities. Below are some other benefits provided by Dynamics 365 to companies looking for the best ERP for small businesses.
1. Customizable
Organizations can customize their instance of Dynamics 365 to encompass any business function. For example, there are modules dedicated to finance, manufacturing, and customer service. You can start with a few components, then expand your Dynamics 365 instance as needed. Small businesses can set up a complete solution containing any tools and features required to run their company.
2. Provides Actionable Insights
You can use Dynamics 365 as a single source of truth for data pulled in from different areas of your organization. That way, you get a 360-degree view of everything about your customers or business operations. You can also leverage the AI capabilities of Dynamics 365 to pull insights that help you make more informed decisions about the direction of your company.
3. Integrates With Other Microsoft Products
Dynamics 365 lets you work with other Microsoft tools like Excel and Outlook. You can perform bulk updates or make changes to Excel sheets, then automatically publish the information to your Dynamics 365 database. The AI technology within the platform helps you respond to customer inquiries and business requests via email.
4. Lets Companies Automate Workflows
You can automate your tasks using Power Automate. For example, an HR representative could set up a workflow that automatically works through the tasks necessary to onboard a new employee.
Get Started with Cloud ERP for Small Businesses
If your company is in the market for new ERP software, Dynamics 365 provides everything needed to run your business effectively. You can automate manual tasks in various departments, make communications with customers more seamless, and track everything happening within your small business from one platform.
Internet eBusiness Solutions understands the needs of small businesses. We can help you customize Dynamics 365 to fit your company's needs. To learn more about how we can optimize the benefits of a cloud ERP, set up a consultation with one of our Microsoft experts.