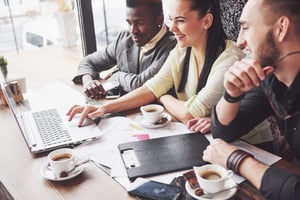 If you run a small business, new software may be the last thing on your mind. Perhaps you're more worried about finding better employees or increasing cash flow. Maybe your A/R is too high or there's a supply chain issue holding you back. We know that small business owners have all kinds of worries.
But what if we told you one of the biggest boosts for a small business comes in the form of customer relationship management (CRM) software? The best CRM for small business can help grow your business, build customer relationships that last, and help you get organized around sales and marketing.
Here's why your small business needs a CRM and how one CRM — Microsoft Dynamics — can set you up for success in the future.
Reasons Your Small Business Needs a CRM
If you think CRM software is only for big companies, think again. Today, small companies can benefit from CRM to manage their customer relationships. If you've ever had a customer slip through the cracks, or are looking for opportunities to convert more leads to customers, your small business needs a CRM.
CRM software helps small businesses organize customer and sales data. It lets you input data on prospects and current customers. That way you can keep track of every contact you have with a lead or current client. It can keep your team on the same page, whether it's marketing, sales, operations, or another department. That way, you can present a more professional and organized front for the client. Missing information can make you look disorganized and can discourage client trust. A CRM can bring everything together and position your company for growth.
A CRM platform is particularly important if you want to warm up leads. Having all prospects in one database is smart, but coordinating your marketing efforts professionally requires a CRM to coordinate activities. A CRM will help you convert more leads into customers. It can also help you keep in touch with existing customers so you can nurture the relationship. This will help you keep customers longer, and periodically encourage them to buy more products and services.
A CRM can also help small companies automate mundane marketing tasks. It can segment customer lists so that you can send personalized messages based on a variety of factors, such as a customer's last type of purchase or the dollar amount spent. Marketing materials like coupons or ebooks can be sent out automatically to save you time.
The best CRM for small business lets you run reports on all of these activities, including tracking sales. You'll also spot trends such as your customers seem to open emails at a certain time or that a specific type of message seems to help you sell more products.
How do small businesses grow larger? They retain more of their existing customers while adding new ones. A CRM is a sales tool that helps you do both.
Best CRM for Your Small Business: What to Look For
The biggest benefit of a CRM is that it organizes your efforts to convert leads into sales. If you invest in a CRM, it immediately gives you a competitive advantage over companies failing to invest in these tools. But how can you choose one platform over another? Look for these features in the best CRM for small business:
It should be more than a contact database, also providing sales forecasting, reporting and more.
It should handle email with templates and automation, not the old cut-and-paste method of tracking data.
Speaking of data, it should be easy to import information from other programs into the CRM.
The CRM should integrate easily in marketing campaigns. It should be compatible with programs you use every day to reach customers, such as Excel or email.
We suggest an online platform, which is more scalable; as you add more files, there is adequate storage for your corporate growth.
Consider affordability; the best CRMs for small business are online monthly subscriptions that have a fixed, regular cost that even small businesses can afford.
IES works with Microsoft Dynamics CRM to offer all of these features for small businesses. These are the same features in use today by mid-size and enterprise organizations. Here are some of the Dynamics CRM features for small business that will help your company improve.
Dynamics CRM Features for Small Business
Small businesses looking for a competitive edge should consider Microsoft Dynamics CRM. It's easy to use straight out of the box, but it can also handle customization to fit your business. Not that you necessarily need it; Microsoft products were built to work together, so the Dynamics CRM tool integrates thoroughly with tools you use every day, like Word or Outlook.
Managing a customer relationship in small business is too often a manual process. It's time-consuming, and small business owners are often not consistent in their efforts to market and build these relationships. That's where a CRM can help.
One of the best Dynamics CRM features for small business is the easy-to-use dashboard feature that you can tailor to fit important tasks. From this one dashboard, you can handle:
Sales and marketing tasks including managing calendars, viewing closed deals, and automating emails.
Contact management with easy search features. Each contact has a detailed record of all of the activities your company has engaged in with them. There are opt-outs that allow you to honor your client's wishes, and customization options that let you communicate with them in the ways they want.
Workflow automation can help staff members work smarter by reducing repetitive tasks
Email campaigns let you use templates to create emails, then automate the campaign and track it.
In today's competitive markets, small businesses need the competitive advantage found in Microsoft Dynamics CRM. This tool can help you professionalize your approach to managing leads, nurturing prospects, and retaining current clients. IES works with Microsoft to offer their products to our small business clients. Contact us today to discuss how Dynamics CRM can help your company achieve great things.